Fusion rates were equivalent to autograft, including the ability to achieve fusion in 100% of one and two level procedures.
Single Level

Two Level

Three Level

Four Level

INTEGRA MOZAIK
OSTEOCONDUCTIVE SCAFFOLD
Clinically Proven — Integra Mozaik Osteoconductive
Scaffold has been shown to be equally effective to autograft
A key clinical study on the use of the Integra Mozaik matrix (versus autograft) in posterolateral lumbar fusion supports the product's safety and effectiveness as an alternative to autograft.

Equivalent performance between the Integra Mozaik scaffold and autograft




Success in a patient population containing many common confounding factors or comorbidities including smoking, diabetes, and osteoporosis




In cases of successful fusion, definitive, uninterrupted bridging of well mineralized trabecular bone was observed 12 months after surgery, as determined by an independent radiologist blinded to treatment




Integra Mozaik scaffold applied as indicated with bone marrow aspirate alone, no addition of autograft or allograft




Spinal fusion comparisons performed in each patient individually, Integra Mozaik scaffold applied to the symptomatic side and autograft to the contralateral side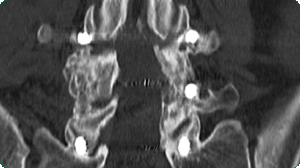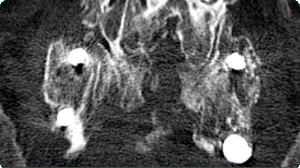 Representative radiographs from the referenced study. CT-scans from two patients at 12 months post-op.